Importance of festivals can be reinforced in positive ways.
It is time to enjoy and celebrate festivals. Many of us like the festive season and enjoy the rituals attached to them. While some others like the idea of getting holidays because of festivals and enjoy the break from their daily schedule. Our kids also enjoy the festive season and look forward to breaking from school and studies.
However, the kids hardly understand the importance of these festivals. Why these festivals are celebrated?
Ways to educate about the importance of festivals for kids
There is a mythological story or a significant historical event behind these celebrations. In the absence of awareness in this regard, the enjoyment of these festivals is incomplete. Many times, kids
enquire
about the historical aspects of the festivals. Making them aware of the past will surely help them to enjoy their present.
Encourage them to participate in preparations such as rangoli making
, singing prayers, decorations, making sweets, etc., so that they can understand the culture and enjoy with awareness.
Nowadays,
many comic books are available which revolve around mythological stories
and tell about the reasons for the celebration of a particular festival.
Reading
these history-based story books serves many purposes at the same time. It not only helps kids to learn about their history but it also provides them the essential moral values. The moral of the story helps the kids to understand human values.
Kids portraying the role of Lord Rama and Sita
Stage plays, dance-dramas, and festive events are organized during festival season.
It is a great opportunity to indulge the kids in festive color and local flavors. Indian festivals like Diwali and Dussehra are celebrated with great pomp and show drawing huge crowd across the country. In fact, people from other countries also come over to witness.
Another way to guide about festivals is by way of cartoons.
There are available many cartoon films/videos based on the lives of different mythological heroes, which may provide the answers to many questions of the children. The kids would love to watch these cartoon films and get to know about their past.
Often schools organize activities or events related to festivals
which involves role-playing, poem recitation, decorations, etc. Inspire your kids to participate and help them out.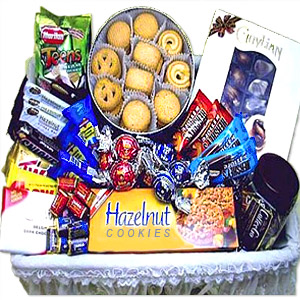 Chocolate Gourmet Basket
from:
Flora2000.com
Send wishes and gift baskets to extended family and friends
across the country or globe. Involve kids in choosing online greeting cards, gifts or sending their handmade cards. Those ways they would learn to stay connected with loved ones on festivals.
Awareness about history is an important aspect of the education of kids. It helps them to differentiate between wrong and right, good and bad and pros and cons of various things that come up in
life
. Therefore, the above ways are perfect to teach the importance of festivals for kids.
Share your ideas or views in this regard, looking forward to your inputs...
Related posts:
Holi- Popular festival among kids
Celebrating Diwali with Kids
Kids' safety during Christmas period